Accounting
Address:
34844 W Michigan Ave
48184
Address:
1651 Kingsway Ct
48183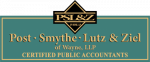 Address:
4621 S Wayne Rd, Wayne, MI
48184
Long Business Description:
Post, Smythe, Lutz, & Ziel of Wayne, LLP was established in 1961. Our many years of experience and service provide our clients with the stability they demand from an accounting firm. In addition, we have enjoyed controlled growth during this period and now service over 300 business clients in a variety of industries. Today, we are a firm of professionals concentrating in the areas of accounting, tax planning and management consulting. The combined resources of Post, Smythe, Lutz, & Ziel of Wayne, LLP provide our clients the experience, focus and commitment required to assist them in all aspects of their business and personal financial affairs.